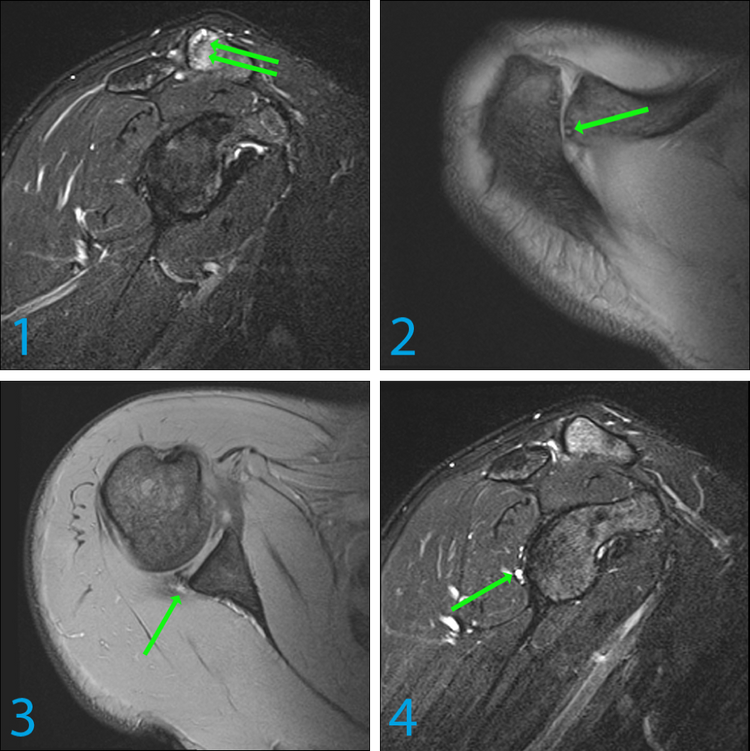 MOST LIKELY DIAGNOSIS: Clavicular Osteolysis
This 33-year-old weight lifter presents with anterior shoulder pain and popping.
CLINICAL CONSIDERATIONS:
Q1 – Using images 1 through 4, what are the imaging findings?
Q2 – What intraarticular AC joint pathology is most likely?
CLINICAL CONSIDERATIONS:
A1 – The diagnosis is clavicular osteolysis. Osteolysis of the clavicle more commonly affects younger adult males (mid 30s). MRI imaging characteristics include bone marrow edema of the distal clavicle, cysts or erosions of the distal clavicle, and a subchondral line within the distal clavicle (images 1 and 2, arrows). Additional imaging findings include resorption of the distal clavicle as well as periarticular swelling. Etiologies include fracture, AC joint dislocation as well as microtrauma related to sporting activities and weight lifting; especially bench and military pressing. Treatment is conservative (avoidance of overload activity, stretching, and steroid injection in particular) with resection of the distal clavicle reserved for refractory cases.
A2 – The most common intraarticular abnormality associated with osteolysis clavicle is labral pathology (approximately one-third). This patient has a posterior labral tear with a paralabral cyst (images 3 and 4, arrows). Less commonly, partial-thickness rotator cuff tears are also present. This is a sub-type of "peel-back" labral pathology seen in weightlifters.
Diagnosis: "Weightlifters Shoulder" with clavicular osteolysis and posterior labral "peel-back".
CLICK "COMPLETE & CONTINUE" TO ADVANCE