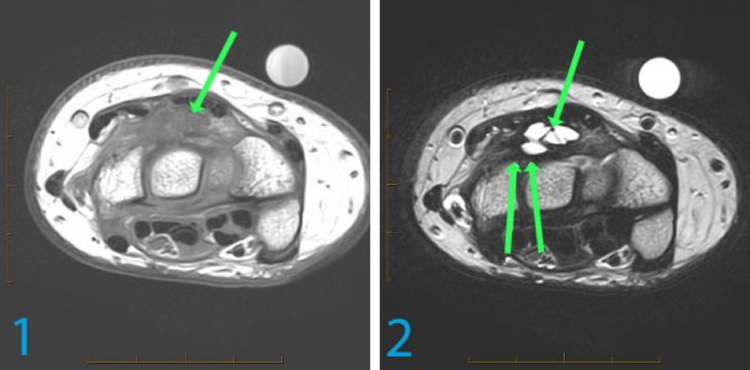 MOST LIKELY DIAGNOSIS: Ganglion pseudocyst
This is a 15-year-old female with a dorsal soft tissue mass. You are shown two images, a short-axis T1-weighted spin echo (image 1) and a short-axis T2-weighted spin echo image (image 2).
There really is not a differential diagnosis. So a more challenging question is: where does such a lesion normally occur in the wrist?
CLINICAL CONSIDERATIONS:
The diagnosis is Ganglion pseudocyst. It is true that the signal intensity of a cystic schwannoma, myxoma and epidermoid could be similar but all of these diagnoses are implausible in a 15-year-old. In generating a report, none of these should really be proposed. The most common locus for ganglion pseudocyst in the wrist is directly atop or dorsal to the scapholunate capsule (paired arrows). The ganglion is highlighted with single arrows.
The second most common location is the palmar aspect of the scapholunate capsule and region of the radioscaphocapitate ligament. While these lesions can be decompressed with a needle or by slamming them with a book (a little bit unpleasant) they often recur and require resection with repair of the deficient capsule. For those of you with a religious bent, a heavy bible can be used to smash these. For those of you with a political bent, you can try smashing it with a copy of the U.S. Constitution.
CLICK "COMPLETE & CONTINUE" TO ADVANCE