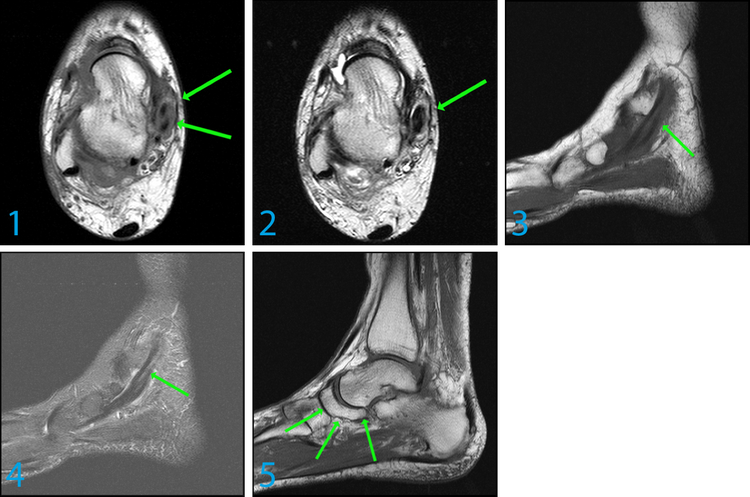 MOST LIKELY DIAGNOSIS: Tendinosis
This 43-year-old female presents with ankle pain and paresthesia. Using images 1 through 5, what is your diagnosis?
CLINICAL CONSIDERATIONS:
When looking at image 1, note four tendons in the medial flexor compartment. This is known as "the sign of too many tendons". The arrows in image 1 point to a complex longitudinal split tear of the posterior tibialis. This is also visualized on image 2 (arrow). Abnormal longitudinal high grade partial split tear is shown on images 3 and 4 (arrows).
In the setting of tendinosis and split tears, it is useful to identify the proximal-distal length of the tear. In this case, retromalleolar, inframalleolar, and postmalleolar segments are swollen and abnormal as the posterior tibialis courses behind the medial malleolus into the arch of the foot and navicular attachments. Periarticular arthropathic spurring is identified within the midfoot, sagittally.
Additionally, note unrelated prominent medial process of the navicular, which has close approximation to the anterior calcaneal process outlined on image 5 (arrows). This resembles fibrous coalition; however, no osseous edema. No bony bridging is noted. The navicular is simply dysplastic.
CLICK "COMPLETE & CONTINUE" TO ADVANCE