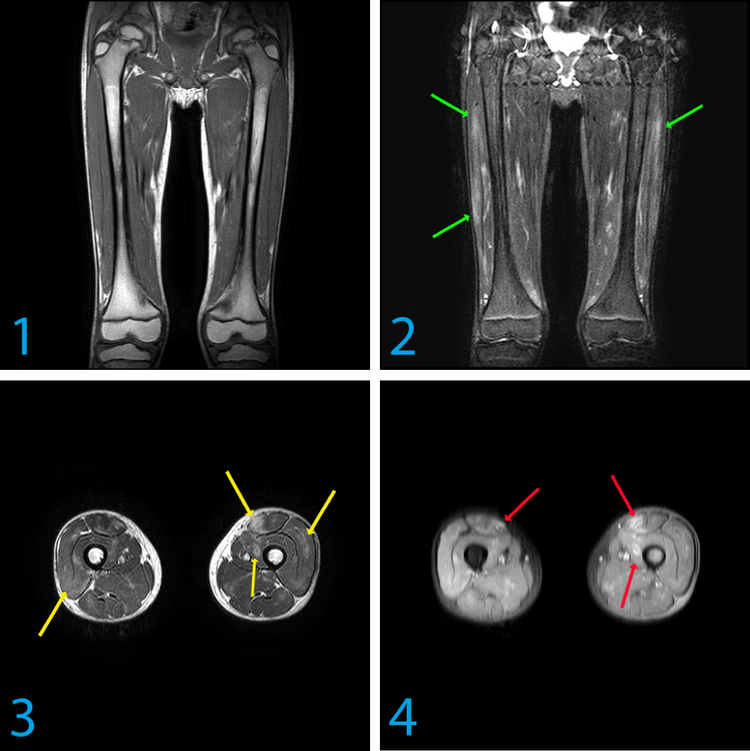 MOST LIKELY DIAGNOSIS: Polymyositis
This 6-year-old has a history of generalized muscular pain and swelling. The erythrocyte sedimentation rate is 90. You are shown seven images that include a coronal T1 (image 1), a coronal T2 with fat suppression (image 2), an axial T2 without fat suppression (image 3), and an axial proton-density SPIR or fat-suppressed proton-density (image 4). How much can you see in the four images?
CLINICAL CONSIDERATIONS:
Q1 – What is your diagnosis?
Q2 – If a diagnosis were not yet made, what test would be on your blood draw aside from the sedimentation rate?
Q3 – What sporadic disease is often confused with this one, and does not respond to treatment for months to years?
CLINICAL CONSIDERATIONS:
A1 – Polymyositis.
A2 – Creatine kinase (CK); Creatine phosphokinase (CPK) or lactate dehydrogenase LDH might be part of your blood draw. Patients that are especially sick with this condition can develop muscle necrosis and myoglobinuria.
A3 – Sporadic inclusion body myositis (SIBM) is often confused with, and misdiagnosed as, polymyositis or dermatomyositis. It progresses more slowly, and does not respond to steroid treatment.
The hallmark of polymyositis is weakness and loss of muscle mass, proximally. The ability to contract the neck and torso are also affected. Often affected are large muscle groups such as the hip extensors which leads to difficulty climbing stairs or rising from a seated position. Patients tend to experience muscle pain.
Pure polymyositis is not associated with skin lesions. However, other symptoms include abnormalities of esophageal motility or dysphagia, low grade fever, peripheral adenopathy, interstitial lung disease, and cardiac disease in severe systemic cases. When presenting in adulthood, fatigue while walking is a common complaint.
Polymyositis is an inflammatory myopathy mediated by cytotoxic T-cells. In contrast, dermatomyositis is humerally mediated, and is considered an angiopathy. Either one of these conditions may present as a manifestation of a paraneoplastic syndrome.
Inclusion body myositis, which is less well-known to imagers and clinicians, is an inflammatory muscle disease that is progressive, yet slow, but involves both distal and proximal muscles. It is most apparent in the arms and legs. Inclusion body myositis is usually sporadic, but there is a hereditary form. Sporadic inclusion body myositis is the most common cause of inflammatory myopathy in patients over the age of 50 years.
MRI is extremely valuable in assessing the presence of the disease itself since there are not very many conditions that produce this pattern of patchy large muscle group myoedema. Furthermore, the greatest value of MRI is in demonstrating a response to treatment with steroids or chemotherapy which manifests as diminishing myoedema. Such an assessment may be made volumetrically, both subjectively and measured objectively. To name a few, the heavily water-weighted sequences, especially the proton-density fat suppression and T2 fat suppression (e.g. SPAIR, SPIR, special, fat-sat, STIR) are fat suppression sequences. Please note that the T1-weighted images provide little value in assessing the presence of myoedema (image 1).
Pearl: With myopathy in an adult, always exclude adverse reaction to statins.
CLICK "COMPLETE & CONTINUE" TO ADVANCE